Welcome to Modem's website
The 2021 MODEM Conference has been postponed to 21st & 22nd November 2022, at Sarum College. Margaret Heffernan will be the keynote speaker. We will circulate further details as soon as they are confirmed via our mailing list – if you don't already receive our emails, you can sign up here.
The 2021 MODEM Conference and the MODEM Book Club
MODEM's Conference 2022:
Uncharted Journeys
Date: 21st & 22nd November 2022
Timings: Arrivals and registration from 12 noon; opening session at 13.45; close of conference at 13.00, with lunch to follow.
Place: Sarum College, Salisbury
Cost:
MODEM members: £150 residential; £100 non-residential
Non-members: £170 residential; £120 non-residential
Click on this link to take you to the Sarum College Website to make a booking to attend the conference:
MODEM Conference 2022: Uncharted Journeys – Sarum College
As we chart our way through the Pandemic many are seeking certainty and direction but are finding that the only certainty is uncertainty. MODEM's 2021 conference is an opportunity to explore, from a range of perspectives, our journey forward into the future. The conference theme – 'Uncharted Journeys' – mirrors the title of Margaret Heffernan's book 'Uncharted: How to Map the Future Together', published in 2020.  This is one of many books written by Margaret Heffernan which include also 'Wilful Blindness' and 'A Bigger Prize'.  Margaret's profile encompasses entrepreneur, chief executive, adviser to senior executives around the world, professor at the University of Bath, and writer for the Financial Times and Huff Post…. And Margaret Heffernan will be joining us as keynote speaker as we also explore our own uncharted journeys and those of our other contributors. The hallmark of this conference is hearing from inspirational people with wide-ranging experience and remarkable journeys who have particular wisdom to share, and this continues with Jackie Le Fevre who will also be joining us. Jackie spent twelve years in nature conservation, before working with young people and in community development and training. She followed this with the setting up her own company, Magma Effect, responsible for bringing one of the world's leading values profiling technologies to the UK.
The Conference will follow the usual pattern of MODEM events in providing opportunity for conversation and reflection sparked by challenging and thought-provoking input from our speakers. In 'Uncharted journeys', we will gather round the notion of uncertainty, of how we seize the challenge of helping to create the future, what that means for us as individuals but also as part of something larger than ourselves. Our speakers will draw on their stories and help us to uncover how we can think about the future, and what we can 'do' and 'be'.
Those attending the conference are invited to submit, if they so wish, a brief paper on a significant uncharted journey that they have made or are making. These papers will be curated and shared with all attendees, but not formally presented or debated. Sharing these reflections will highlight the way in which we make uncharted journeys in the company of others and the implications for how 'we map the future together.'
MODEM Book Club
MODEM UK has started running a Book Club by Zoom. Our next meeting is on Tuesday 8th March 2022 from 7.30 pm to 9.00 pm. The book to be considered is George Lings' book Seven Sacred Spaces, which explores portals to deeper community life in Christ.
You can join the book club by using this link:
Reading between the Lines Modem Zoom Book Club – Seven Sacred Spaces Tickets, Tue 8 Mar 2022 at 19:30 | Eventbrite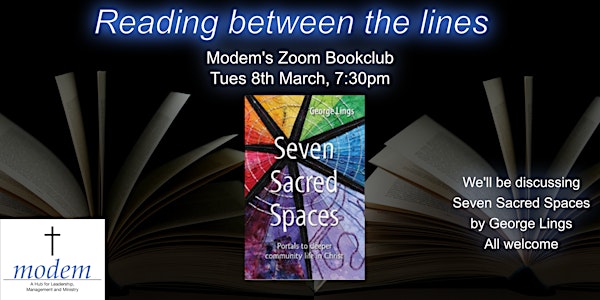 At our September Zoom Book Club, we discussed Margaret Heffernan's book, Wilful Blindness, which considers the opportunity for knowledge and the responsibility to be informed, but this is shirked. There is the instinct to cluster together in likeminded communities; love compels us to see the best in each other; trying to hold two incompatible views leads to eliminating one of the beliefs. These are just a few of the topics considered in her book. Having set out the problems, she then moves on to consider how objective truth does exist, what kind of people can see this clearly and how we might train ourselves to have this clear vision rather than wilful blindness.
In our discussions, we drew out the realization that some unexpected people have been drawing our attention to things that are new different for some time. We need the capacity to listen and ask why people think as they do. Part of this is to see that those who disturb us may well be seeking to help us. The title of the book led us to consider how we use metaphors in our choice of words.
The 2020 annual conference, run in association with the Susanna Wesley Foundation, took place online on Tuesday, 1st December.
The background to the conference was the awareness that there is understandable scepticism that the social and political structures that affect everyday life can be held to account. It is not difficult to find poor performance that hasn't been challenged, systemic problems that are repeatedly investigated without real change and public policy that lets down those most in need.
This day conference looked head on at the challenges of accountability whilst opening up our own work to the same questions. Three people in positions of being held to account and holding others to account were asked to open up about the challenges they face:
Alongside this Dr Helen Cameron (Practical theologian and Research Associate, Centre for Baptist Studies, Regent's Park College, Oxford) summarised some of the current academic thinking about accountability and relate it to themes in Christian theology. We were asked to consider: What are the things for which I am accountable and who can hold me to account?
Accountability challenges can be found existing in supply chains, complex committee structures, flexibility of earnings, delegating to others, structures playing off against each other. Different interests are at stake that are not often balanced well with each other.
Christine Allen drew out the implications of subsidiarity in its aim to hold power at the lowest and most appropriate level. The Industrial Revolution has given us wealth, but at the cost of the planet. The choice of what to do with our resources is the real issue, thus creating a place for the preferential option for the poor as some people need to have specific care and the recognition of the injustice they face.
Vic Rayner asked what is the focus of accountability. Policy development has contributed to this along with an awareness that there are many stakeholders. Accountability is working out what you need to answer to. Quite often, reform can be long term and the capacity to achieve needs to be considered. Accountability is always done with others, and those with whom we have a relationship may have different values and priorities to us. However, working together creates power, but courage and fear are part of the use of this power.
Marvin Rees helped us to see how invisibility can lead to unaccountability. Where the dynamic of accountability lies needs to be discovered, and we are accountable to truth, not people. If there is no diversity, how can we get to the truth? Hope, rather than optimism, in the face of realism is what is needed.
Rev Mike Long, Notting Hill Methodist Church, London, offered a closing reflection linking the day's presentations to his experience of the Grenfell Tower Inquiry. He challenged us to think about how blame can fitting and necessary in a limited way, but only goes so far as everyone has responsibility. The identification of truth needs to happen before healing can happen. Jesus was blamed and crucified by those who abdicated responsibility, but he brought forgiveness and new life.
Key issues were drawn from these speakers and participants were given an opportunity in small groups to reflect upon them.
This conference was for everyone involved in organisational life and leadership – both those within churches and faith organisations, as well as those within secular organisations, as are all MODEM conferences.
---
MODEM's 2019 Conference, in partnership with the Susanna Wesley Foundation, was held at Sarum College from lunchtime on Thursday, 21st – lunch on Friday 22nd November, and built on the ideas generated at 2018's conference. Entitled 'Losing Control – Enabling Withness', we explored ideas that Sam Wells has been developing in 'A Nazareth Manifesto: Being with God' (2015), 'Incarnational Ministry: Being with the Church' (2017) and 'Incarnational Mission: Being with the World' (2018), and how these can relate to ideas from organisation studies about emergence and non-imperialistic forms of organising and non-control. We related these ideas to experience and wisdom from local churches. A Nazareth Manifesto has been described as 'nothing less than a call to rethink Christian witness and mission, based on a profound re-telling of our relationship with each other and God'. This conference was an opportunity to think together about how church organization might better facilitate such a retelling. The ideas follow on naturally from our consideration of witness in the 2017 conference and asset based community organization in the 2018 conference.
Speakers included Sam Wells, Nic Beech and Paul Hibbert. Click here for more information, or watch Sam speaking about 'Being With' here:
Book Reviews
We regularly provide reviews of newly published books that are relevant to leadership, management or ministry. Check out our book review page.
Archbishop of Canterbury supports MODEM's work
"The work you do in bringing together perspectives on leadership and ethics from church and commerce is immensely valuable and I am grateful to you for developing these channels of communciation."
The Archbishop of Canterbury, Most Revd & Rt Hon. Justin Welby sent MODEM a letter of "warmest good wishes" for its 20th anniversary conference in 2013. He challenged MODEM to continue its work with a reflection on "the love of Christ urges us on…" from 2 Corinthians.
You can read the full letter in a special conference issue of MODEM Matters.